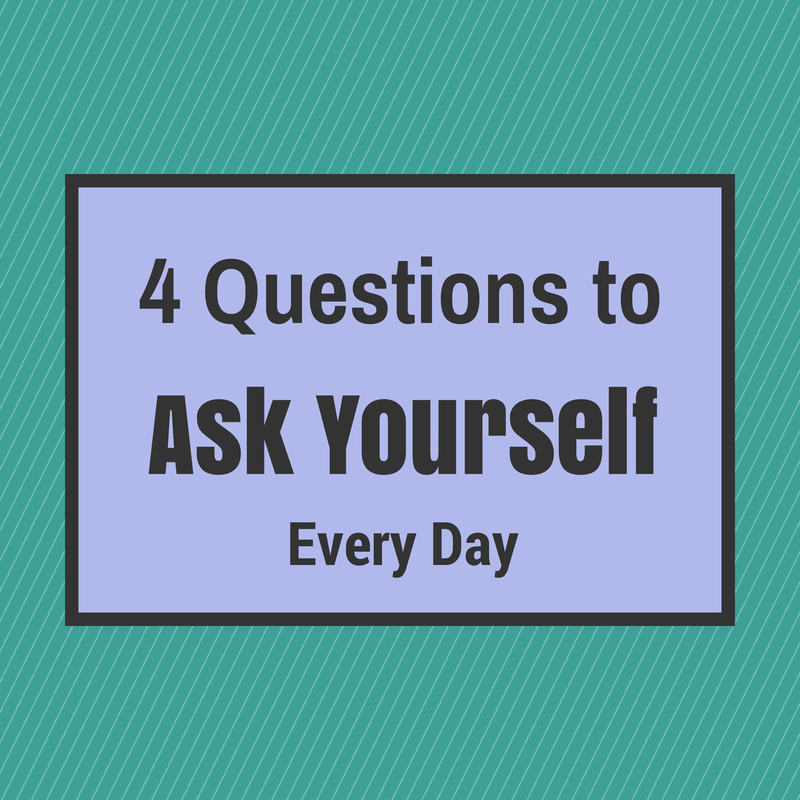 Today I'm bringing back video!!
I want to share with you a short practice that I've found really helpful and that some of my students have really enjoyed as well.
I learned these 4 questions to ask yourself every day at The Chopra Center – it's part of their Primordial Sound Meditation practice and it can be really powerful.
What I love about this particular practice is that it's flexible and simple. If you don't practice meditation, you can still ask yourself these 4 questions. If you do practice meditation, you can add this to the beginning or end of your existing practice.
The best part is there is no wrong answer AND there needn't be an answer at all! That's right, you don't have to answer all the questions. I don't know, I'm not sure, or I have no idea are all valid answers.
The hardest part about this practice is trying to let the answers come to you spontaneously without using your analytical mind to try and come up with an answer. All our lives we've relied on our brains to answer questions. For this practice, I want you to shut your brain down. Use your body instead. Listen to what the universe has to say. Not sure how to do that? That's ok! Shut down your brain and see what happens. And remember, if nothing at all happens, that's okay too!
At the end of your practice, let the questions and answers go. Let this be your sacred little time to reflect, reorient, and recommit to who you are and what you want to do in the world.
Think about this practice like a fishing pole. Every time you ask a question, you're casting your line. If an answer comes, then you caught a fish and you'll reel it in and then throw it right back out into the water. At the end of your practice, let your fish go. Set the pole down and go on with your day. The pole will be there tomorrow for you to go fishing again.
So what are those 4 questions?
Who am I?
What do I really, really want?
What is my dharma (or my purpose)?
What am I grateful for?
To practice once with me, watch the video below and let me know what you think about this practice on the Facebook page or over in the YouTube comments.
Start living life inspired today!
Have you mastered the 7 elements to inspired living?
Do you have a plan in place to integrate them into your life?
The Inspired Life Checklist draws from core concepts in the Yoga Sutras and helps you identify where to focus your energy so that you can start living your most inspired life right now!

The Journey: A 7-Day Mini-Course to Self-Discovery Are you ready to step on the path to self-discovery? The Journey is a 7-day mini-course designed to help you navigate the Inspired Life Checklist. Day 1 brings you into alignment with your core values Day 2 gives you clarity on what it really means to you to live an inspired life Day 3 helps you get organized to make inspired living easy Day 4 boosts your confidence to remind you that you can do this! Day 5 offers a practice for contentment to keep you grounded when things get awesome Day 6 shows you how to reach and celebrate success on your terms Day 7 offers a practice in surrender as a reminder that ultimately you are not in control