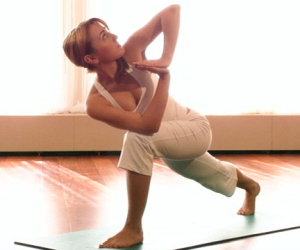 Once upon a time, I had a vision of creating an online yoga video company, uploading videos at scheduled times and mirroring a physical yoga studio online to the best of my ability. It was creative and fun, but when I looked into what it would take to do the filming and editing, I stopped thinking it would be so much fun.
The technology part really got in my way, or rather, I let it, and so I resorted to creating quick videos at home for you instead, which is still problematic at times but much more manageable and affordable.
With that said, I know what it's like to not have direct access to your favorite style of yoga and how important it can be to maintain a consistent practice even when you're unable to get to a real studio for whatever reason – time, money, etc.
That's why I've decided to review for you some of the best online yoga video companies out there to help you make an informed choice as to which platform is most compatible for your yoga practice.
The Best Online Yoga Videos
YogaGlo
YogaGlo was my saving grace when I wasn't able to practice my preferred style of yoga consistently at a studio. There are TONS of classes to choose from and they are always adding new ones each week. Plus, the classes are taught by some of the best instructors in the country. You know you're getting quality instruction and the whole site is very clean and easy to use. Video quality is high and you have flexibility to choose between different styles, different class lengths and different ability levels.
I don't use YogaGlo anymore, mostly because I now have a studio to go to, but also because of their recent shenanigans. YogaGlo has sent cease and desist letters to many different online yoga video providers asking them to remove their videos from the Internet because they are in violation of YogaGlo's "patent" on how to shoot and film yoga videos online. This is absolutely ridiculous and I don't like to support yoga companies that are not inclusive and that try to inhibit the growth of the yoga community as a whole. YogaGlo has now become the Lululemon in the online yoga video world – great product, crappy business practices.
Price: $18/month after a 14-day free trial (I believe, I'd already used mine up so I couldn't find the number of days in the free trial)
GaiamTV
An offshoot of the popular yoga media and lifestyle company Gaiam, GaiamTV is this company's  foray into online yoga videos. GaiamTV is a little different though because it offers so many other types of content, including documentaries and instruction on other conscious practices. They call themselves the "Transformation Network" and tout it as an "alternative to mainstream media." The company recently acquired online yoga video company MyYogaOnline to bulk up their online yoga class content.
I've used GaiamTV's free trial before, but because I'm more interested in yoga classes online, I didn't find it to be worth the money for my needs. However, if you're into spiritual growth and learning about new ideas through broadcast, GaiamTV is the place to be.
Price: $9.95/month with a 10-day free trial
BeMoreYogic
**Full disclosure: I was given free access to the BeMoreYogic network for the purposes of reviewing this product. Please note that I do my best to stay objective and not let the freeness sway my honest opinion. I care about you and only want to recommend the best options. If it shows up on the list, that means I liked it at least a little!**
Besides the fact that I like the name of this one, BeMoreYogic is a refreshing twist in the online yoga class world. It's a much smaller network with classes being taught by just three different instructors in "exotic" locations such as the south of France. The classes I sampled were challenging and creative and I learned something new as a teacher, so I appreciated that. They offer a different variety of styles, including Kundalini, Yin and Power Vinyasa, so it really is the perfect mix of styles for my particular taste.
However, the selection is quite small. If you're looking to practice consistently for months, you'd be doing the same classes over and over again. The platform is newer and while they are constantly adding new classes to the mix, it will take some time before they can have enough videos to allow variety in your daily practice. They have five classes that run 60-90 minutes and about 15 that run 30-60. All the rest are short tutorials, meditations or sequences that are less than a full class.
At the same time, the instruction is high quality and the scenery is great. Plus, the instructors have great accents (Australian, maybe?). I really like this platform, my only complaint is that there aren't enough full-length classes.
Price: $4.99/month for the first 3 months and then $15/month after. You can also sign up for a full year and pay a flat rate of $135. They also offer a selection of free videos available to anyone.
YogaDownload
YogaDownload has tons of options and plenty of different teachers – with a mix of really great well-known ones and ones you've never heard of – styles, duration, etc. They even offer Barre classes, Pilates, strength training and yoga with weights. This site is set up a little differently than the others. You can download classes "a la carte" and have access to them all the time or pay a subscription fee and stream classes any time with a certain number of downloads allowed per subscription plan.
The difference here is that when you download a class, you have it all the time on your device as opposed to having to stream, in which case you need Internet access to play the video through the YogaDownload site. This is a nice and convenient option to have, but I personally don't need to download anything. Streaming works just fine and I normally have reliable Internet access when I'm traveling.
I honestly can't remember if I've used this site before, but the sheer number of options, makes it slightly overwhelming in my opinion.
Price: Membership options start at $10/month and go all the way up to $90/year. You can download single classes anywhere from free-$9.95
DoYogaWithMe
While doing research for this article, I came across this site, which I've never actually used before. The big difference here is that ALL the classes are FREE all the time. There seem to be lots of options between styles, teachers, duration and ability level, including videos specifically on yoga anatomy, yogic breathing and meditations.
I've never really heard of any of the instructors, which isn't a bad thing, but I'm definitely more unfamiliar with this site. Since it's all free, I'll probably check it out soon and see how the quality of instruction compares to other sites. They also offer online programs that run for a certain number of weeks and hand-pick videos just for that topic, which is unique. This one definitely feels closest to that "online yoga studio" feel I was envisioning way back when I thought offering online yoga videos was a good idea.
Price: Free
DailyBurn
Finally, there's the DailyBurn. This site offers yoga as part of an overall online fitness platform. When you buy a subscription, you have access to all the different videos, including strength training, yoga, cardio and other high intensity workouts.
This site definitely caters to a more athletic type of yoga. Some classes are taught by Briohny Smith and Dice Lida-Klein, a rather famous husband and wife team you may have seen performing breathtaking yoga sequences on YouTube for Equinox Yoga based in New York City.
I'm not really sure about this one though, because there isn't a whole lot of information available unless you actually sign up and get started.
Price: $10/month with a free 30-day trial
I hope you've found this useful and will be trying some online yoga soon. Of course, you'll always have access to my short videos for free!
Have you used any of these online yoga websites before? Let me know your thoughts in the comments below!
Image credit: myyogaonline
Start living life inspired today!
Have you mastered the 7 elements to inspired living?
Do you have a plan in place to integrate them into your life?
The Inspired Life Checklist draws from core concepts in the Yoga Sutras and helps you identify where to focus your energy so that you can start living your most inspired life right now!

The Journey: A 7-Day Mini-Course to Self-Discovery Are you ready to step on the path to self-discovery? The Journey is a 7-day mini-course designed to help you navigate the Inspired Life Checklist. Day 1 brings you into alignment with your core values Day 2 gives you clarity on what it really means to you to live an inspired life Day 3 helps you get organized to make inspired living easy Day 4 boosts your confidence to remind you that you can do this! Day 5 offers a practice for contentment to keep you grounded when things get awesome Day 6 shows you how to reach and celebrate success on your terms Day 7 offers a practice in surrender as a reminder that ultimately you are not in control