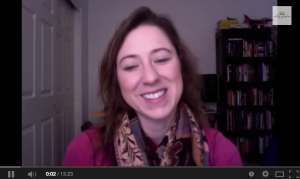 Happy Wellness Wednesday! I'm actually catching you on Wednesday this week!
I created this video for you below as an intro to Ayurveda, specifically as it relates to the modern working woman. It will set the foundation for the journey we're going to embark on together in 2014. Even if you're totally not on board to learn a whole new system of wellness, I urge you to stick with me. I'll be sharing lots of new wellness practices, tips for staying healthy and I'll even start writing about food.
Go ahead and watch the video and let me know what you think about all of this in the comments below. What are you most excited to learn about in 2014? What are your health goals for this year and how can I support you with wellness practices?
Plus, I have some exciting news to announce, so be sure to watch through to the end – it's going to affect how often I'll be around, so you'll want to check in and see what it is!
Take care, get some rest and I'll see you soon.
Start living life inspired today!
Have you mastered the 7 elements to inspired living?
Do you have a plan in place to integrate them into your life?
The Inspired Life Checklist draws from core concepts in the Yoga Sutras and helps you identify where to focus your energy so that you can start living your most inspired life right now!

The Journey: A 7-Day Mini-Course to Self-Discovery Are you ready to step on the path to self-discovery? The Journey is a 7-day mini-course designed to help you navigate the Inspired Life Checklist. Day 1 brings you into alignment with your core values Day 2 gives you clarity on what it really means to you to live an inspired life Day 3 helps you get organized to make inspired living easy Day 4 boosts your confidence to remind you that you can do this! Day 5 offers a practice for contentment to keep you grounded when things get awesome Day 6 shows you how to reach and celebrate success on your terms Day 7 offers a practice in surrender as a reminder that ultimately you are not in control