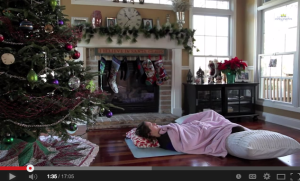 Happy Wellness Wednesday! Hope you're all keeping warm – it was 19 degrees the other morning when I woke up to take my dog outside. Brrr. But I must say, this is exactly what I was hoping for. It's currently snowing and accumulating in Cleveland, OH, and I couldn't be happier; being away from a real winter for 2+ years was just too much for me. I'm loving the season!
I will admit that it's been a bit cold though – to warm up I created today's yoga practice to help you restore and relax and get cozy.
You'll need a couple pillows and a blanket for this one. If you can find some quiet space all the better!
Enjoy.
Start living life inspired today!
Have you mastered the 7 elements to inspired living?
Do you have a plan in place to integrate them into your life?
The Inspired Life Checklist draws from core concepts in the Yoga Sutras and helps you identify where to focus your energy so that you can start living your most inspired life right now!

The Journey: A 7-Day Mini-Course to Self-Discovery Are you ready to step on the path to self-discovery? The Journey is a 7-day mini-course designed to help you navigate the Inspired Life Checklist. Day 1 brings you into alignment with your core values Day 2 gives you clarity on what it really means to you to live an inspired life Day 3 helps you get organized to make inspired living easy Day 4 boosts your confidence to remind you that you can do this! Day 5 offers a practice for contentment to keep you grounded when things get awesome Day 6 shows you how to reach and celebrate success on your terms Day 7 offers a practice in surrender as a reminder that ultimately you are not in control