Welcome Tiny Buddha Readers!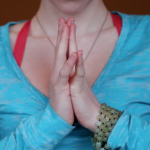 If you're looking for new ways to apply simple wisdom to your life, you've come to the right place! Sometimes we forget what the true meaning of yoga really entails. Beyond the poses is the ultimate transcendence of Self. Let me help guide you through the challenges that will get you there.
Ashley Josephine Yoga is all about helping you reconnect to your soul. Once you've come back "home", you all the sudden have an inner compass that will help guide you through all of life's decisions!  I want to help you feel your best and be your best Self day-in and day-out so that you have the energy to be your very own Tiny Buddha! Until you've found your very own Self, there is nothing to transcend.
If you're the type of person who loves to feel inspired, learn more about yourself and aim for happiness every day, you'll love my weekly Yoga Break newsletter. It comes out on Wellness Wednesdays; I share a short yoga video with you, plus update you on other things going on in the Ashley Josephine Yoga Community.
I'd like to personally invite you to join hundreds of women who are already reconnecting to their souls with yogic wisdom, poses relaxation, wellness and self-care. Just enter your email below to get started!
To give you an idea of what you might receive from me, check out one of my most popular videos, the 5-minute Yoga Tune-Up.
I've also picked out some of the best blog posts on the site to date that will help you understand the types of things we talk about here.
–Warning: Yoga is the New Gateway Drug
–Why It's Okay if Your Life is A Mess
I'm so glad you found us and I'm super excited to help guide you along your life journey.
With gratitude,
ashley josephine[/fusion_builder_column][/fusion_builder_row][/fusion_builder_container]