2013 Wellness Challenge Week 31: Connect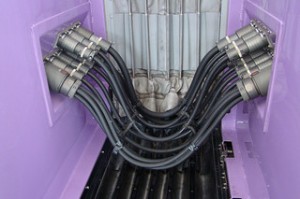 Big wisdom: You cannot succeed alone.
This past week was all about connecting. Connecting can take many different forms, but the point is get out from behind your computer, office cubicle, or wherever it is you spend the majority of your time.
This blog is fun for me, and as much as it's meant to be an inspirational resource, it's also meant to be the foundation for a business that can support me and my family for years to come. So far, that hasn't come to fruition. It would help if I had something great to sell.
The thing is, I have to be careful that I don't hide behind my computer. I have the skills and knowledge to create great things, but if I don't share them with the community in person and talk about what it is I have to offer, then nobody will know and I'll still have a blog with no business. As much as this is a networking principle, it's also a prime principle of sales. An obvious, yet sad, fact of being in business (or wanting to be in business), is that you HAVE TO SELL. You can hate it, or you can learn how to love it. Either way, connecting is a big part of it.
Most business owners, etnrepreneurs, yoga instructors and people with big ideas fall prey to the same issues. A yoga instructor may be amazing, but if she doesn't step outside the comfort of her own studio and sell herself, she'll miss a lot of opportunities to grow.
How Connecting With Others Helps You Grow
This past week, connection took a lot of different forms. For one, I connected with amazing women via Skype to have incredible in-depth conversations about health, wealth and balance for a new podcast I'm launching of the same name in September. Stay tuned for more information about the podcast and the release of these incredible conversations here on the blog and on iTurnes. The wisdom shared by these successful women from all walks of life had me formulating yet another self-help curriculum just based on their own personal experiences.
I also connected with my current and potential teammates in my Pangea Organics business. When you connect with others, especially with people who are on your team, it's important to be authentic, and also grateful. I learned in my first job the value of praise and gratitude in helping people feel worthy. I also learned that acknowledging others' accomplishments can go a LONG way. It's easy for us to get down to business when we have team meetings, but the value of appreciating and acknowledging, while more subtle, is much more effective when building effective teams.
Connect With Yourself To Get Aligned
Connecting with others is wonderful and fulfills me (although be mindful of whether it fulfills you as well – some people get drained when they have to do so much connecting). Connecting with yourself is just as important. Checking in on a daily basis to make sure the work you're doing is nourishing to your soul will ensure that you're in business (or blogging, or whatever) for years to come. It's the times when you are misaligned that will cause you stress, pain and agony. You'll feel weak and ineffective and want to quit. And many of us will. This is the space where ideas and dreams die. It's horrible and depressing and it can also be fixed. We just have to have the strength to realign. This requires brutal honesty and extreme discipline.
Don't Forget To Connect With Those You Love
And finally, leaving quality time to connect with those who are close to you may be the most important piece of all. It can feel stupid to purposely leave time in your day to connect with your partner, friends, family, etc., who you already see on a regular basis. But in fact, these are the first people to suffer from our pursuit of passion. These are the people we assume will understand, will give us space, because they love us and by default have to allow us the space and time to create, connect and consume.
This is a tragedy. I'm such a perpetrator of this, it's sad. Realizing this is a first step, but as I mentioned before, it takes extreme self-discipline to make the people you love in your life feel loved. Connecting with your loved ones can take many different forms; it doesn't just have to be in conversation. It helps when you get out and do something different – at least for me that helps deepen my bond with my partner and other important people in my life.
More and more I'm beginning to realize how important other people will be to my success. It's not about what you know, it's about who you know. BUT, you have to be in connection with the people you know if you're ever really going to go anywhere. Just knowing isn't enough. Connection is far more valuable.
Send this post to an old friend and reconnect! And if you're interested in upping your connecting game, try a 30-day free trial of Contactually, the connection engine I'm using to create more quality connections in my life!
Image credit: xcode
Start living life inspired today!
Have you mastered the 7 elements to inspired living?
Do you have a plan in place to integrate them into your life?
The Inspired Life Checklist draws from core concepts in the Yoga Sutras and helps you identify where to focus your energy so that you can start living your most inspired life right now!

The Journey: A 7-Day Mini-Course to Self-Discovery Are you ready to step on the path to self-discovery? The Journey is a 7-day mini-course designed to help you navigate the Inspired Life Checklist. Day 1 brings you into alignment with your core values Day 2 gives you clarity on what it really means to you to live an inspired life Day 3 helps you get organized to make inspired living easy Day 4 boosts your confidence to remind you that you can do this! Day 5 offers a practice for contentment to keep you grounded when things get awesome Day 6 shows you how to reach and celebrate success on your terms Day 7 offers a practice in surrender as a reminder that ultimately you are not in control