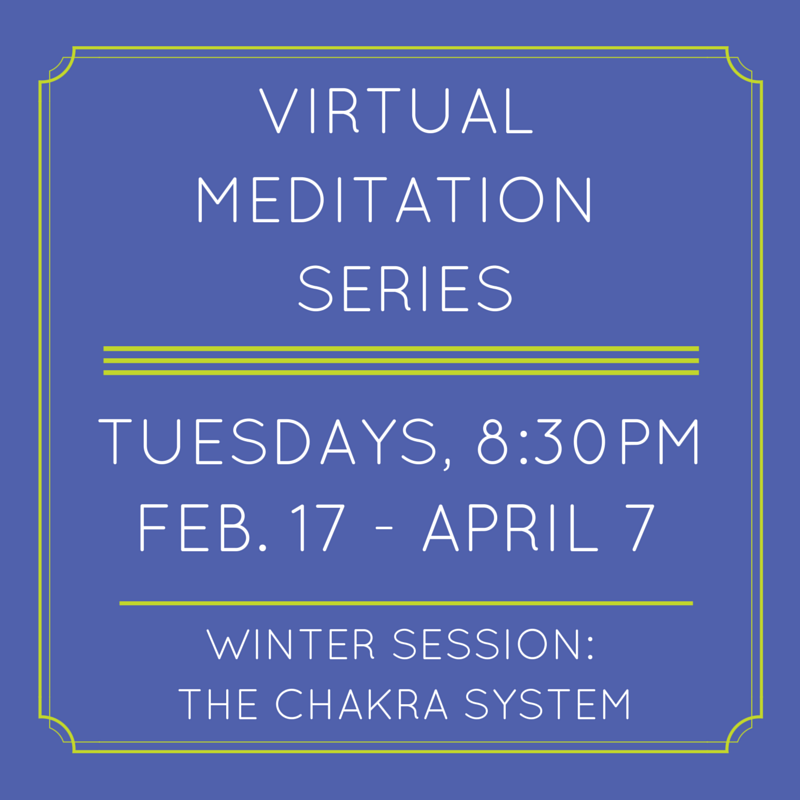 This program is no longer open for enrollment. I'll be in touch soon with updates for my new meditation CD coming out soon!

I'm really excited to be offering my first virtual meditation series. If you've ever wanted to learn how to meditate, if you're looking for a way to sustain your meditation practice, or if you want to learn more about the chakras, this series is perfect for you.
Here are all the details.
When: Tuesday, Feb. 17 – Tuesday, April 7
8:30pm ET – 9:00pm ET (The first and last session will last for 1 hour instead of 30 minutes)
If you're unable to join us on Tuesday evenings, you can still sign up and I'll send out recordings of the meditations so you can listen in later when you have time
Where: Anywhere!
Once you sign up, I'll be sending out the call-in information. You'll be able to access the virtual meditation through phone or internet.
What: We'll be meditating on the chakras. Here's a list of the types of meditations we'll be doing together.
Week 1 (Tuesday, Feb. 17): Intro to Meditation, Grounding Meditation
Week 2 (Tuesday, Feb. 24): Abundance Meditation
Week 3 (Tuesday, March 3): Confidence Meditation
Week 4 (Tuesday, March 10): Joy Meditation
Week 5 (Tuesday, March 17): Creativity Meditation
Week 6 (Tuesday, March 24): Intuition Meditation
Week 7 (Tuesday, March 31): Inner Beauty Meditation
Week 8 (Tuesday, April 7): Full Chakra Meditation
Why: Meditation is good for you! Scientific evidence has proven that a consistent meditation practice can help rewire your brain to improve your mood, your ability to focus, and your overall wellbeing. Meditation is also being used to help treat and cure stress-related disorders including PTSD.
Cost: $49 for the 8-week series.
That breaks down to $6.12 per session.

My goal is to get 25 of us meditating together! Please send me an email if you have any additional questions.
Start living life inspired today!
Have you mastered the 7 elements to inspired living?
Do you have a plan in place to integrate them into your life?
The Inspired Life Checklist draws from core concepts in the Yoga Sutras and helps you identify where to focus your energy so that you can start living your most inspired life right now!

The Journey: A 7-Day Mini-Course to Self-Discovery Are you ready to step on the path to self-discovery? The Journey is a 7-day mini-course designed to help you navigate the Inspired Life Checklist. Day 1 brings you into alignment with your core values Day 2 gives you clarity on what it really means to you to live an inspired life Day 3 helps you get organized to make inspired living easy Day 4 boosts your confidence to remind you that you can do this! Day 5 offers a practice for contentment to keep you grounded when things get awesome Day 6 shows you how to reach and celebrate success on your terms Day 7 offers a practice in surrender as a reminder that ultimately you are not in control