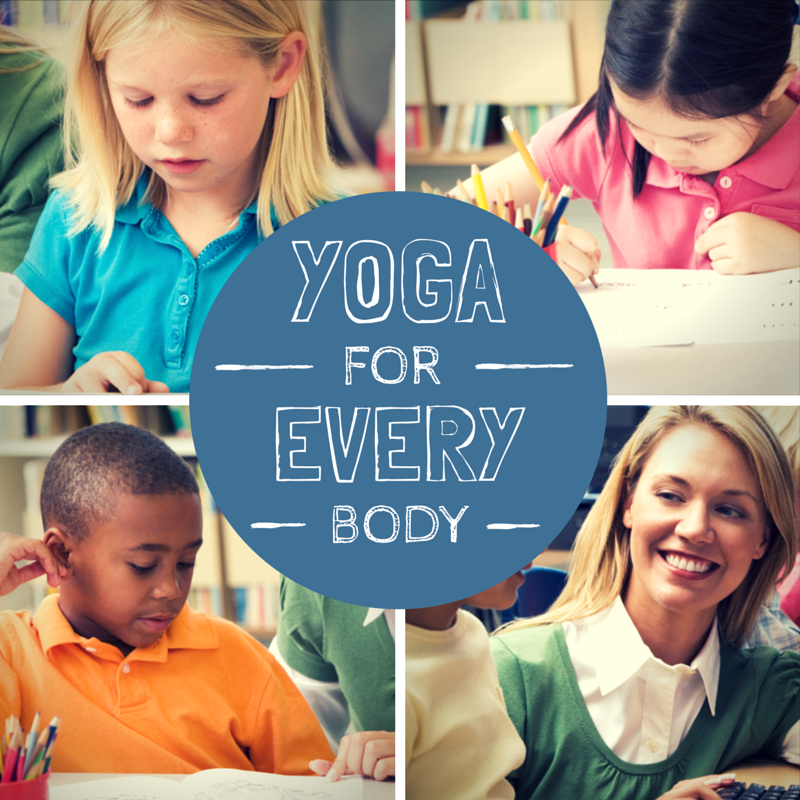 After I finished teaching my A Pose for Your Woes workshop in Wichita Falls back in July, a woman came up to me after class and asked if I could recommend some resources for a family member who suffered from some medical conditions that made full range of movement challenging. I let her know that I would do some research about specific types of yoga that can be beneficial for his specific limitations, but then it got me thinking about yoga and limitations in general.
The thing is, all of us have limitations of some kind. Stress limits how much energy we have. Illness limits what we can do and where we can go. The responsibilities we carry as human beings, parents, employees, entrepreneurs, significant others, and friends in 2014 can provide intense limitations on our time and energy.
Those of us who can stand on two feet, have all our limbs, and walk around all day long without pain might complain that we can't do yoga because we're not flexible. I promise you, you can "do yoga."
What it really means to "Do Yoga"
I suppose it helps to define what "do yoga" even means. Most Westerners think that "doing yoga" means going into a studio and taking a class taught by an instructor who leads you through a set of twisty, bendy poses that you are fairly certain you can not do. But you're still doing yoga if you walk into that classroom, lie on your back and never do a single pose the teacher instructs. You're still doing yoga if you practice at home. And you're still doing yoga if you take 1o deep breaths.
You might get asked, "what type of yoga do you do?" to which you might reply, Ashtanga, Power Vinyasa, Hatha, Anusara-inspired, Kundalini, Baptiste, Bikram, Jivamukti, Sivananda, Kripalu, or any other weird-sounding name. Or you might reply, I have no idea, I just do yoga.
That is the beauty of this practice.
It doesn't matter what specific type of yoga you practice. All that matters is that you're breathing and you're aware of what you're doing. When you're aware of what you're doing, you are present with what your body is experiencing. When you are present with what your body is experiencing, this is the true definition of yoga.
That's why you can practice yoga while you eat lunch.
You can practice yoga while you drive.
And when I say practice yoga, I don't mean perform physical poses (asana). That's probably against the law in most states (when you're driving).
Finding Your Yoga
As I build my private practice, it's interesting to see how my different students need to practice yoga in different ways. Some students have serious physical limitations that limit how they can move, and others want to move more. For those who struggle to lunge, fold, twist, and bend, sitting and breathing suffices. It's not an alternative, it's just a practice that is right for the body experiencing it at any given time. It doesn't make the practice any less beneficial to "do yoga" one way or another, and it doesn't make the student any better if he sits and meditates or practices handstand pushups.
If you can't practice physical asana, that doesn't mean you can't practice yoga. If you simply like to cook delicious, fresh vegetarian meals with love and attention and you're "in the zone" or "in your happy place" when you cook, then that's your yoga. Perhaps you experience your yoga when you run. Yoga is that euphoria that comes when all your troubles melt away and you can be completely at peace in the present moment, in tune with your breath and the mysterious inner workings of your incredible body, no matter what it can or cannot do physically or mentally.
Sometimes it might take some experimentation to find what works best for you. In fact,  your yoga may look different every single day.
To be an advanced yoga practitioner, you don't have to spend your life in a yoga studio. You have to spend your life in the present moment. (Click to share – thanks!)
Additional Yoga Resources
For those of you who are looking for resources on specific types of yoga that might help you find relief from physical and mental pain, check out these incredible companies and organizations that are working hard to provide yoga for every body in all its different forms.
Offers yoga for men and women of all shapes and sizes.
Offers yoga in military communities to help foster a mind/body connection as a way to work through combat-related stress, PTSD, and trauma.
Provides yoga to veterans as a means to "aid recovery and promote resilience."
Provides yoga programming for veterans, prisoners, and those who are recovering from eating disorders.
Provides yoga to schools in Colorado to help kids cope with stress.
A movement of yoga that caters to anyone who considers him or herself an outlaw.
iRest Yoga Nidra is a form of meditation that has been well researched in the scientific community and has proven to help alleviate symptoms of PTSD and other trauma- and stress-related disorders.
A non-profit organization that provides yoga to kids and teens.
International Association of Yoga Therapists
Provides a registry of certified teachers who teach yoga as a therapy. Registered Yoga Therapists are good options for students who have more serious medical issues they're dealing with or serious physical limitations.
Do you know of, run, or belong to other specific organizations that offer yoga in its myriad forms for specific populations? Or do you have a limitation that wasn't mentioned here and you're interested in learning more about how yoga can help you? Connect with me on my Facebook page and feel free to send me a personal message if you don't want to have a public conversation. 
Namaste.